Seventh Valmet supplied tissue line successfully started up at Hengan's mill in China
PM21 is the third of four Advantage DCT 200 lines recently ordered by Hengan. When the startup of PM22 takes place at the same mill in Weifang later this year, Hengan will have a total of eight Valmet supplied tissue production lines in operation.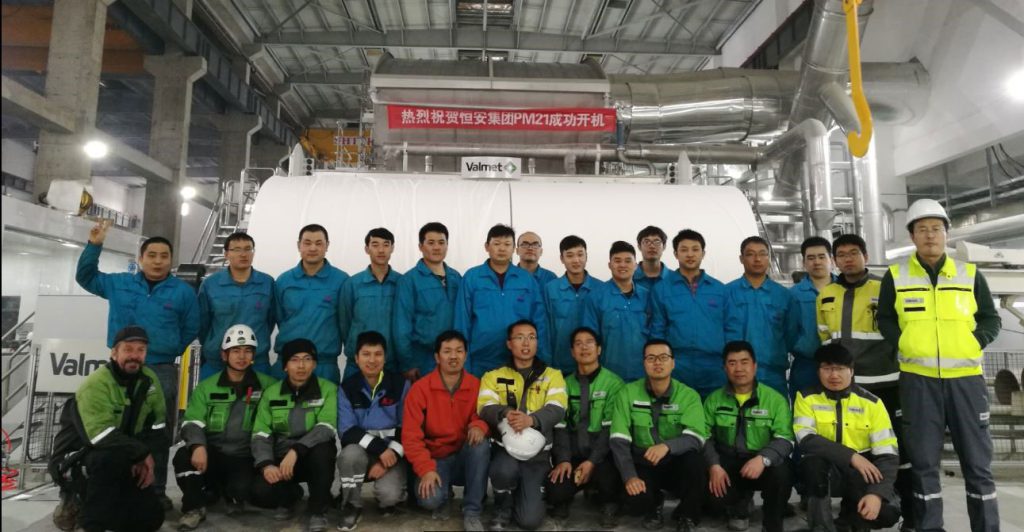 The other two Advantage DCT 200 machines were started in Wuhu, China, with excellent results in 2016. All three startups have been well coordinated and performed in record time, which creates a great outlook for the upcoming PM22 premiere.
The investments support Hengan's aim of strengthening their leading market position in China, while the well proven Advantage DCT Technology ensures a stable production of high-quality tissue, in this case mainly used for facial, toilet and towel grades.
Hengan is China's leading tissue producer, with a current tissue production exceeding one million tons per year. The high-performance Advantage DCT 200 trio counts for an annual capacity of least 180,000 tons of tissue products, soon to be 240,000 tons once all four production lines are started and optimized.
Technical information about the deliveries
Valmet's delivery comprises of four Advantage DCT 200 tissue production lines, featuring automation, stock preparation systems and the well-proven Advantage technology including OptiFlo headbox, Yankee, AirCap hood, WetDust dust system and SoftReel reel. The machines are 5.6 meters wide and operates at 2,000 m/min.
About Hengan
Hengan International Group Company Limited is an investment holding company mainly engaged in the trading of personal hygienic products. The company and its subsidiaries are principally engaged in the manufacturing, distribution and sale of personal hygiene products, including sanitary napkins, disposable diapers and tissue papers products, food and snacks products and others in the People's Republic of China, Hong Kong and certain overseas markets.
---