SAUERESSIG Surfaces produces printing and embossing rollers for a wide range of applications. Versatility is our strength. With our embossing rollers you can transfer and finish a wide range of surfaces such as tissue and hygiene articles, nonwovens, flooring but also many other materials. As a modern company, it is a matter of course for SAUERESSIG to offer its customers services along the entire value chain.
The SAUERESSIG Surfaces Division continues to expand its sales network and, with local representatives worldwide, including in Europe, Latin America and Asia, enables short and direct routes to customers. Potential language barriers are overcome and so we can respond quickly and flexibly to the needs of our customers.
To further maximise success and develop detailed knowledge of product properties, SAUERESSIG Surfaces has reorganised its efficient product-related sales team.
One team deals specifically with rolled products such as toilet paper and kitchen rolls and another with folded products such as handkerchiefs and napkins.
The teams are in constant dialogue with the customer – but also with each other – in order to drive innovations and technical developments forward and not only to follow trends, but to set them together with the customers.
SERVICE.

THE DIFFERENCE IS IN THE DETAIL
As a reliable partner and advisor, we are always at our customers' side, actively observing current trends on the market and working out solutions for the most varied requirements together in personal discussions and developing new processes, materials or adapted surfaces. The creative implementation of surface designs is realised by experienced designers and experts, taking into account all relevant technical details. The newly installed in-house pilot plant in Mönchengladbach provides the opportunity to test the properties and performance of tissue products under realistic operating conditions. The customer can develop new prototypes to open up new market opportunities with low investment risk. It goes without saying that the quality that distinguishes our products is also the basis of our service offer: from reliable support to maintenance, measurement and adjustments of rollers to on-site assembly and process optimisation, we offer our customers a comprehensive service.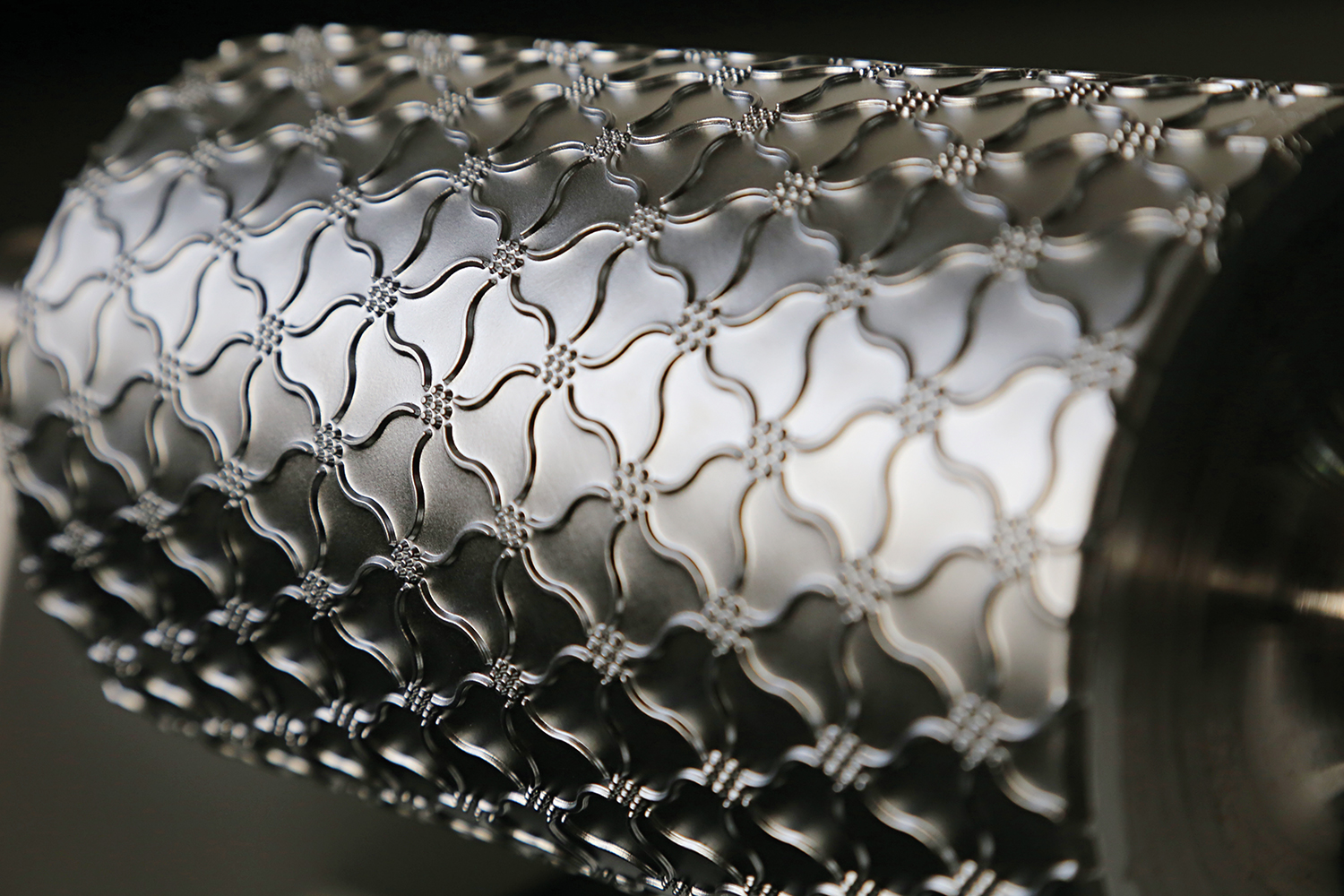 TECHNOLOGY.

MODERN PROCESSES FOR THE PERFECT RESULT
Our diverse engraving techniques offer an ideal combination of creative designs and optimal product properties. We enable the individual arrangement and implementation of embossing points, the combination of different flank angles as well as seamless, continuous engraving over the entire circumference of the embossing roller. SAUERESSIG Surfaces produces your embossing rollers and sleeves with highly developed laser etching technologies, tool engraving and state-of-the-art direct engraving processes. You can be sure that all possible production processes, whether etched engraving, laser engraving and gravure engraving, finishing of roller body surfaces, electroplating or mechanical engraving, will be realised with the utmost care and qualitative and effective processing of your products will be ensured. Optimum results in the look and feel of your end product thus provide you with the decisive competitive advantage.
Sustainability is the trend. Not only the quality of our products, but also environmentally friendly production are at the forefront. Particularly in the field of galvanisation, we focus on the economical use of operating resources and the modernisation of plant technology, taking into account all environmental requirements.
Inspired by design. Driven by technology
RESEARCH PROJECTS
In order to continuously develop technologies, products, services and processes, SAUERESSIG Surfaces supports internal and external research projects with strong innovation partners. The activities here include the development and evaluation of the entire value chain in order to optimise energy consumption, process and resource efficiency as well as the properties of the end product. Even if it may not seem so at first glance, today's toilet paper and kitchen rolls are modern and complex products in our everyday lives. The product properties such as sheet structure, liquid absorbency and softness are significantly influenced by the tissue paper itself and the embossing applied to it.
Creating an excellent product requires a holistic approach that combines the demands of the consumer with the requirements of the manufacturer right from the outset. In this context, a wide variety of embossing techniques are tested on the different papers. We are happy to share our insights and experience with our customers to create not just a new product, but added value for consumers.