The manufacturing of tissue products is one of the most challenging technical processes in the paper industry: very low basis weights, high production speeds exceeding 2,000 m/min, high temperatures and a variety of additional processing steps including creping, rewinding, converting and all the other actions taken before the finished and packaged product is ready for roll out.
Moreover, tissue manufacturers are faced with an increasing demand for more efficient use of resources and cost effectiveness in production, without affecting product quality. With the right choice of roll covers, tissue producers can benefit directly from reduced energy consumption and increased efficiency of the Yankee by raising the level of dry content during the pressing process. In converting, the roll cover is decisive for a successful balancing act between volume and absorption quality versus mechanical strength as well as ply bonding versus tactile properties such as bulk or drape softness – while archiving premium quality goods at the lowest possible costs. Tissue roll covers from SchäferRolls (Figure 1) have been developed to comply with the special demands of the respective roll position, the specific product manufactured and the particular preferences of the machine operator. They are a reflection of profound experience, gained through numerous successful applications over decades. A choice will be explained below.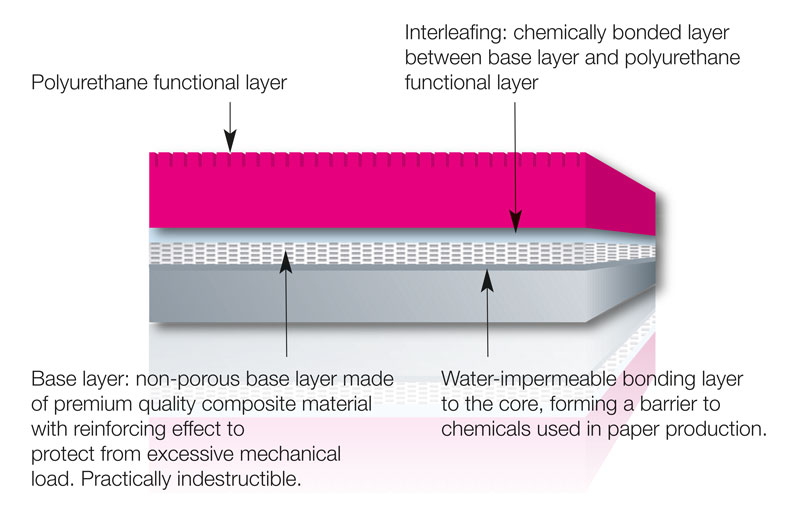 – tisQ.X, a suction pressure roll cover, has been designed especially for fast-running machines to achieve ultimate dewatering performance and energy efficiency (Figure 2). It delivers maximum resistance to moisture, temperature and wear and thus improves dry content and operating speeds. Among several successful applications at international paper manufacturers and OEMs, the Wepa Leuna GmbH in Leuna, Germany can exemplary be mentioned where a dry content increase of 1% oven dryness was determined from 42 to 43 % (ref. TissueMag 1/2017).
– HybriFlex two-layer cover, an option for the pressure roll position, packs a punch or two that have to counteract CMD profile problems caused by uneven Yankee deformations (Figure 3).
With its soft inner layer, the HybriFlex roll cover adapts remarkably well to the Yankee cylinder and makes a valuable contribution to profile improvements across the paper web. The highly wear-resistant top layer allows for excellent cover life and variable surface designs to support the dewatering performance.
– H55, an option for embossing back-up rolls, is made for extreme demands in terms of bulk and surface smoothness. It offers excellent resilience properties and very low compression set and performs excellently at adjusting to the pattern of the embossing roll. H55 can be used for micro and macro embossing and is thus an ideal all-round cover for premium tissue products.
– Q.flex is one option for the adhesive applicator rolls, especially for high-speed systems with high outputs. Its outstanding mechanical-dynamic properties, very good resilience and distinctive abrasion resistance make it particularly suitable for long operating periods at various speed ranges. Homogenous surface properties deliver even adhesive application.
– Q.tera for marrying rolls is the ideal solution for converting systems prone to glue deposit build-ups. Its surface is dehesive and dirt-repellent with excellent cleaning properties, resulting in low cleaning intervals and extended cover service life. With Q.tera, excellent ply bonding and high product quality in terms of bulk and softness will be achieved. At MIAC 2018, SchäferRolls will launch a new development, which will increase the dehesive and dirt-repellent performance even further (Cover picture).
In general, SchäferRolls offers an extensive service to meet the individual requirements. One of the tools is the SchäferRolls SurfaceOptimizer (Figure 4), a computer simulation to determine the specific design of the roll cover for optimal dewatering performance in the press section, resulting in improved dry content, thus in increased efficiency.
The specialists from SchäferRolls' application engineering support the customers from technical design analysis to start-ups, from maintenance to end-to-end integration of the rolls within on-going processes – always with the commitment to taking the customers product quality, productivity and overall tissue manufacturing and converting performance to new levels.
We produce quality roll covers with constant dimensional and shape stability