Moviroll roll pushers are designed, manufactured and assembled on site at Renova, Italy (Milan). This allows the company to quickly work at competitive prices and to be able to support the customers with the highest quality standards also on personalized projects designed on customer specifications.
High performance over the time
Renova's Moviroll roll pushers are compact, handy and heavy-duty and allows the operator to easily and safely move tissue paper rolls of up to 20,000 kg (44,100 lbs) and of a maximum roll diameter of 4,500 mm (178''). Their maximum lift force of 5,000 kg (11,000 lbs) allows to easily place rolls on shuttle carts of up to 5 cm height. MRE battery powered models are equipped with a 24 V DC IP 44 motor powered by a high performance and plug&play 24 V lithium battery.
Renova's Moviroll roll pushers allow the operator to easily and safely move tissue paper rolls
The life span of the battery is very long, in fact it is equal to about 500 recharges of the battery. It ensures the operator to move 60-120 rolls with only one battery charge (3-5 shifts). The battery status LED will easily indicate when the battery needs to be recharged with the original battery charger provided by Renova (rapid battery recharge in maximum 4 hours).
Moviroll MRE are provided with second battery optional. Plug & Play batteries allow quick battery changes in less than 10 seconds without the use of tools and/or electrical disconnection, thus ensuring continuity of the operation. Moviroll MRE LPT model has been designed for tissue paper rolls as it is equipped with oversized roller ideal to handle soft material rolls. All battery models are maintenance free with a battery warranty of 1 year (a 24 month warranty instead is applied for all the systems).
High safety level in plant
Moviroll roll pushers meet the safety standards laid inside the plant as they prevent injuries by helping the operator to easily and effortlessly move paper rolls across the plant with no more fork lift track needed close to the machine.
Besides, battery Moviroll models are pioneers of eco-friendly roll pushers as they are the first-in-industry roll handling systems equipped with lithium battery, which is completely free of any environment polluting acid also dangerous for the operator. All models are managed by TUV-ISO 9001.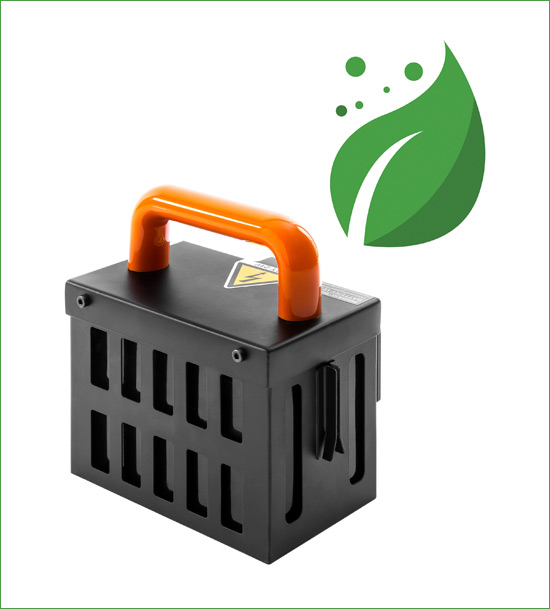 Pneumatic models are also available. MR L models for tissue paper rolls use the power of a high quality pneumatic gear motor powered by pressurized and lubricated air at 6 bar. MR models are provided with air supply kit, which is inclusive of spiral pipe, lubricator filter and pipe fitting.