Replus Tissue is born in the industrial area specialized in paper, and this is the company's starting point for maintaining a bond with the territory, the tissue valley, and with its heart, Lucca, that boasts the largest concentration of companies specialized in the production and creation of ancillary services for the tissue field in the world. The market dominated by multinationals risks suffocating production companies – be they small, medium or large – looking for a partner who is always present, efficient, immediately available. For Replus Tissue, offering projects and solutions in this segment is a strategic opportunity that we pursue with the utmost care and with continuous assistance. Replus Tissue's design criteria follow the guidelines of reliability, quality, safety, with total integration between technology and control. Replus Tissue has chosen to offer its expertise to plants of any size, since it can quickly and impeccably adapt to different needs. The ability to create specialized solutions with solid expertise and a vision of the future also constitutes the launch pad for reaching new geographical areas, new markets, new countries.
Replus Tissue is today present as partner on a world scale with consolidated foundations, guaranteed by EIL, building the future of the field, piece by piece. Designing tissue plants that constitute effective answers to customers' specific needs, looking ahead towards a sustainable future with a low environmental impact; combining together energy, mechanics, automation and the environment by building something that was unimaginable before is possible today, with Replus Tissue.
Replus Tissue. We make Tissue Plants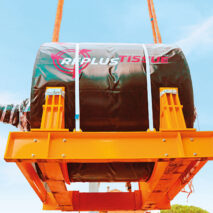 Replus Tissue focuses its offer on complete lines that include stock preparation, the PM, the winder and all the ancillary systems necessary to produce parent reels. Replus Tissue's propelling force lies not only in the creation of turnkey plants, but also in the deep understanding that there is no one formula for all customers. Replus Tissue stands by production companies of all sizes, studying tailored solutions, customized and created based on specific needs. Replus Tissue places the best technologies at the disposal of its customers in order to enhance performance, quality and the management of industrial and logistic processes. The quest for innovations that go beyond mechanics is all to customers' advantage and allows them to change pace thanks to continuous monitoring, to precision diagnostics and to the control afforded by automation. With its consultancy, assistance and services for new or existing plants, Replus Tissue guarantees greater efficiency and profitability. Replus Tissue's greatest strength is the continuous improvement of efficiency in every part of the process, in an increasingly competitive market where it has chosen to distinguish itself by listening to the needs of customers and innovating in the realm of environmental sustainability. Replus Tissue is not just services and products: it is design strategy, it is understanding customer needs and a creative vision of effective technical solutions. Strong of its long-standing experience in mechanics, aerothermia, automation and electrification, Replus Tissue today spans from the building of plants, designed based on the specific needs of every individual customer, to technical and process solutions in complete synergy with automation, that move the boundaries of technology and of research forward, opening up new roads to tread.