The experience and reference of these two companies improved range, with a high level of efficiency, speed and flexibility, is supported by a skilled engineering department to create future-oriented products, combining the know how in palletising and stretch-wrapping. The group palletising department, in fact, can supply different solutions from low to high speeds, with traditional or robotic palletising, meeting all customer needs. Thanks to our software engineering and a dedicated R&D department, OCME is increasing and perfecting the "Program Maker", an interface that allows our customers to create and modify palletising patterns. Highly intuitive, user-friendly and developed on user experience guidelines, the "Program Maker" displays and sets up on the control panel the best palletising configuration for your needs.
The TissueTool
An important innovation of the last "Program Maker" release is the "TissueTool", which finds the best product sequence to optimize layer formation for palletising, buffering single items, and reinserting them in the process when required by the palletizing scheme.
OCME and Robopac R&D departments, composed by mechanical, electronical and IT engineers with high experience and creativity skills, started a long-term relationship to develop and create new tailor-made solutions, to guarantee the highest level of innovation and integration between palletising and the machine range where Robopac is leader: stretchwrappers.
---
We manufacture primary and secondary packaging machines, fillers, as well as handling solutions
---
The place where this innovation will see the light is TECHLAB™, a dedicated area committed to the research and development of the best solutions for end-of-line packaging, optimizing customers' product stabilization, new palletising gripper and customising wrapping processes suiting them to the specific needs of the load and to design the new generation of an integrated solution between palletising and stretch-wrapping areas.
Innovative solutions for tissue industry
But already now we can see the innovative technologies that we are developing as Robopac's CUBE TECHNOLOGY™ that allows the maximum load stabilization without damaging the products especially in the corners, thus reducing film costs and improving load protection; NIP&TUCK® the clamping device that fix the last wrapping film's tail without sealing, eliminating all issues for automated warehouses, removing presence of hot parts in the wrapping cycle, suitable for environment with reduced maintenance possibility and, in addition, it helps to prevent condensation by working with macroperforated or net stretch film.
The innovative solutions for tissue industry are not only for Stretch-wrapping and palletising, in fact, the dedicated intralogistics department plays a big role in designing fully automated warehouse and packaging lines.
OCME is not a product but a solution provider, anticipating trends through innovation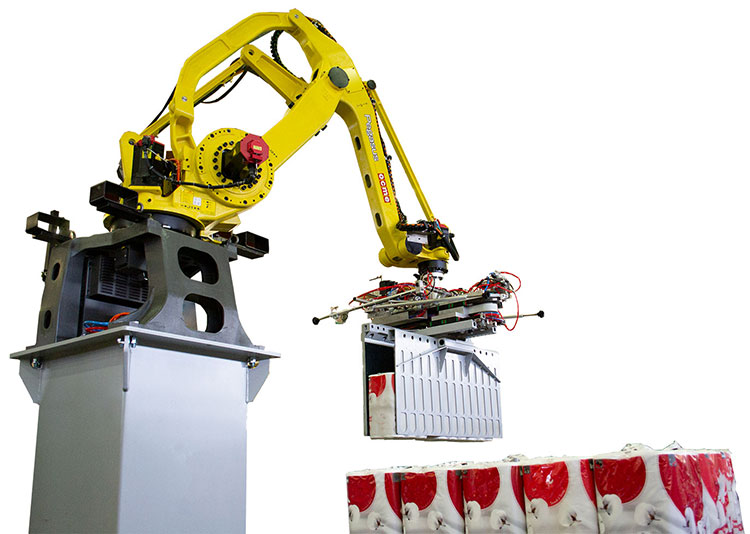 This year we are glad to introduce Auriga 14 RT H, our industrial-type and fully automated reach truck, with OCME's technology solutions for navigation, handling and safety features.
Last but not least, among all advantages, there is the worldwide team up between OCME and Robopac, which can resolve any problems with a "local for local" approach thanks to on-site branches and after-sales centers. To deepen and discover all our new solutions don't miss the opportunity to meet us at our booth 64 during Miac – 26th International Exhibition of Paper Industry, from 9th to the 11th of October 2019 in Lucca, Italy.