Today, some available measurement devices try to describe the perception of softness. Since softness is received by five different mechanoreceptors located in the human skin, it is difficult to imitate. Furthermore, the perception of softness includes a subjective component coming from the consumer. This component differs between societies, religions, gender and several more. Nevertheless, tissue softness can be described to certain extends by different paper properties, such as stiffness, surface texture/smoothness and strength. The human skin does nothing more than sensing those physical properties and processing them to a perception of softness.
The TSA Softness Analyzer is used in the tissue, nonwoven and textile industry and gives reliable and objective information
The emtec TSA
For several applications, the emtec TSA (Tissue Softness Analyzer) could show its beneficial insights into this complex subject. This is especially true for tissue producers and converters as well as their chemical suppliers. But also, nonwovens and textile users highly appreciate the knowledge gained by the TSA. It enables the objective evaluation of the three single parameters softness, roughness and stiffness. From these three parameters, a hand feel value can be calculated, adapted to already mentioned subjective components. Until today, it is impossible to evaluate the influence of different fibre mixes (long/short fibre ratio) to the tissue softness potential of pulps before running them on a tissue machine, but that is now set to change.
By a successful cooperation between the developer emtec Electronic, the University of Applied Sciences Munich and the company Mercer Pulp Products a procedure was developed to first-time observe well known influences of different pulp sources on softness, obtaining a high reproducibility on hand sheets. To achieve that the TSA was slightly modified, and the hand sheet preparation was adapted to the needs. Which means a new sensor design was added to the existing TSA configuration. Furthermore, a plastic foil was positioned underneath the hand sheet sample. For the adjusted sample preparation, a standard laboratory hand sheet former was used to create 30 g/m² hand sheets. Those were dried inside a climate control room at 25°C and 50% relative humidity, with one surface exposed to the air.
By doing so, only the used fibres defined the sample surface and not the usually used smooth counter sheet.
Technical data and measurements
To rate the correctness of this new approach the well-known difference between soft and hardwood needed to be defined, here it is called "Accuracy" and is calculated as followed: A = (∆ x/) * 100%. Where A: Accuracy; ∆x: difference between long and short fibre mean; : average of long and short fibre samples. The aim was to show a significant difference between long and short fibre pulps, and at the same time, to achieve a low coefficient of variation. The investigation could show the expected differences between long and short fibre with a variation coefficient of less than 5% and an accuracy of 34,58% (rel. difference between long and short fibre).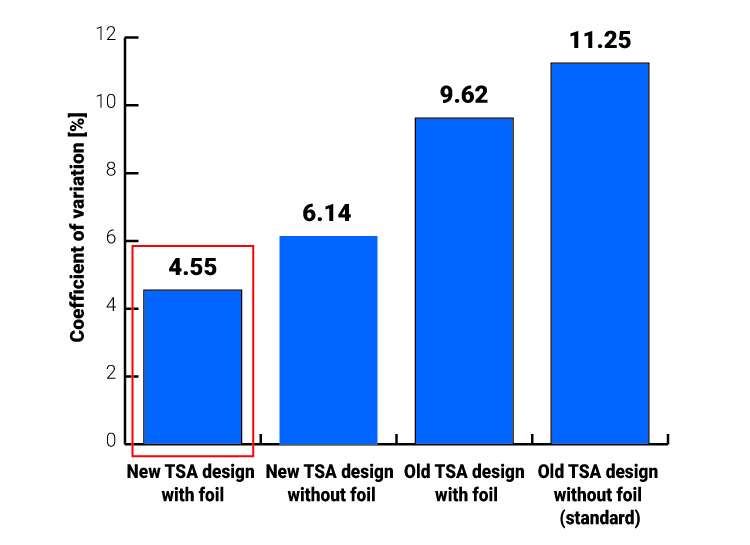 Emtec Electronic celebrates the 300th globally sold TSA, Tissue Softness Analyzer. The device is used in 48 countries on all continents
Furthermore, a strong correlation between the newly measured pulp softness potential and the breaking strength gained through refining was demonstrated. Both corresponds to the expectations of researchers and operators inside the tissue industry. The observed results open a wide range for following investigations. With the outlined procedure pulp and tissue producer might also be able to develop their products further in the lab without the need of running expensive customer trials at a tissue machine.