The technical standard ISO 11228 "Ergonomics – Manual handling" part 2 "Pushing and pulling" specifies the risks and the recommended limits for pushing and pulling activities carried out by an adult worker in an upright position, who applies force with both hands to move or stop an object. It takes into consideration a series of variables, such as strength, posture, distance travelled, characteristics of the object, individual characteristics of the operator, work organization and thus allowing to evaluate the health risks for the workers deriving from manual transport.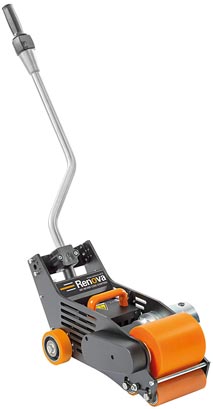 In general, manual handling of loads, representing a potential danger for workers, should always be avoided. All the more reason, if the recommended limits are exceeded, measures should be taken to avoid performing the task manually. In tissue industry it happens to see operators moving manually the rolls across the plant. Sometimes there's just not enough space for forklifts or other material handling systems to move freely.
Innovative solutions that increase productivity and safety level, while reducing maintenance costs and procedures
Renova's Moviroll roll pusher allows the operator to effortlessly and safely manoeuvre both large and small rolls on a flat surface where forklifts and other systems cannot operate. As it allows agile handling of rolls it saves time for other activities, thus improving the productivity in the plant. Every year a wider range of models plus a range of optionals and accessories are available, all of them designed, manufactured and assembled on site at Renova, in Italy.
MRE LPT, DESIGNED FOR TISSUE ROLLS
All application needs are different, that is why Renova offers different design models of battery powered roll pushers. Being specifically designed for the Tissue industry, MRE LPT has an oversized roller that prevents damages to soft materials. It can move reels up to 20 tons and with a diameter of 4.5 meters without any effort by the worker and in total safety, by eliminating possible injuries caused by manual pushing. All models are managed by TUV -ISO 9001.