Gambini has been able to present in 2018 the greatest product innovation with the introduction of the revolutionary AirMill technology, while other major challenges are planned for 2019. Carlo Berti, Sales Director of the company, tells us about it.
Mr. Berti, after the great success of the last year, can you tell us what you have planned for 2019?
2018 has been a very positive year for us. Our constant determination to innovate has found its full realization in the launch of AirMill, the innovative technology that revolutionizes the concept of embossing in tissue converting. It is a process that transforms conventional paper into textured paper, increasing its volume and absorbency without losing tensile strength, while creating benefits and new opportunities for the paper mill as well. AirMill turned out to be a stunning breakthrough for the tissue market, which was immediately welcomed with great interest and enthusiasm by the operators of the sector. However, Gambini's innovation process does not stop here. The recent setting up of Gambini's TissueHub and Gambini's Pilot Line – G4U (Gambini for You) – opens up new opportunities for the study of new products and solutions, which have been unexplored until today, whose trials have already given very good results. G4U is the first complete Pilot line, from the unwinders to the log saw, with format 2.8 m and speed up to 550 m/min, which is installed in the new Gambini's TissueHub located nearby the headquarters.
The Pilot Center was built in the first plant where the company was born. Can we say that innovation for Gambini starts again from its origins?
Certainly, history is always a source of inspiration and in our origins lies our vocation for flexibility and performance, what we call Perflexion, which has enabled us over the years to build a future based on technological innovation. The idea of creating the first Pilot Center – Gambini's TissueHub – in the factory where Gambini was founded back in 1870 makes us proud of our history, although keeping focused on new challenges for the future.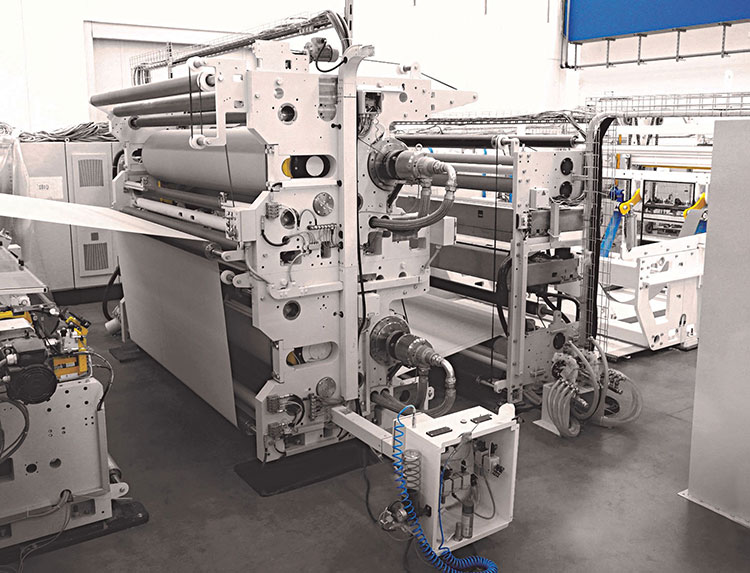 Gambini continues researching and innovating. What G4U really means for the company?
The G4U pilot line has been a significant investment for the company, which however has allowed us to reach important goals and to meet new challenges from an increasingly demanding market, which constantly looks for distinctive signs in the field of technology and products. One of the focus is certainly to test all the potential of AirMill to better understand the various applications that this technology finds throughout the production chain: from the paper mill production to the converting process. Starting from conventional paper (Dry Creped Tissue – DCT), AirMill technology allows creating a new type of paper with characteristics similar to textured paper while improving its bulk, absorbency, strength and stability without losing softness.
Gambini researches, manufactures and designs technologically-advanced machinery and converting lines used for production of hygiene and personal care tissue products
Gambini's new AirMill represents, therefore, a bridge between the paper mill and the converting activities. Last but not the least, Gambini's TissueHub represents also a great opportunity to train our customers and give them the opportunity to verify the excellence of new technologies and products.
Speaking of customers, how are they responding to this news?
Very well. Many customers have already booked their trials with G4U. Soon the G4U pilot line will be complete with a double-layer wrapper machine that will allow interested customers to produce minimum lots to test on the market. G4U has also attracted interest from companies that are not customers, yet, which by booking their test could touch with hands our technology and understand its functionality and innovation, while appreciating its full potential. We can say that Gambini's TissueHub is a large operating laboratory where to exchange ideas, test innovations and develop new solutions. G4U is a great opportunity both for our R&D Department and for customers, as the improvement always comes from sharing ideas and comparisons, and from the capacity to translate the market demands into operational responses.